ShipFoto - Best of 2008
A CD containing 150 high quality ship photographs taken in 2008 in locations including the UK, Holland, Belgium, Hamburg, Marseille, Fos and Istanbul.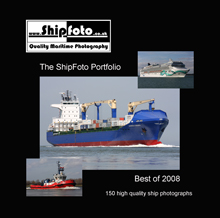 The photographs are stored on the CD in JPEG format allowing the user to browse and store them easily on a computer, print them off on a home printer, or get them printed at any high street photo lab.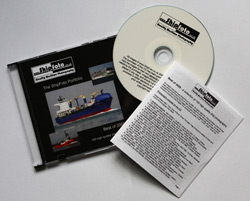 Included with the CD is a small booklet giving basic details about each vessel (Name, IMO, Type of Vessel, Date of Build, Gross Tonnage and Flag) as well as the date and location of each photograph.
The following are a small selection of the featured vessels :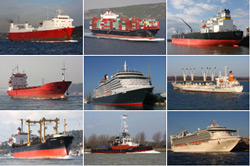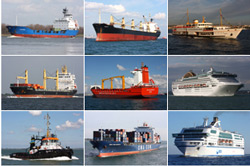 Cruise Ships : Alexander Von Humboldt, Black Watch, Eurodam, Independence of the Seas, Maxim Gorkiy, Ocean Monarch, QE2, Sky Wonder, The Emerald.
Ferries : Corse, Danielle Casanova, Istanbul 9, Monte Cinto.
Bulk Carriers : Alina V, Guler S, Hanhai, Lady Sera, Mosor, Waterford.
Tankers : Aegean Horizon, British Cygnet, Byzantion, Clipper Bordeaux, Cotton, Franz Schulte, Jipro Isis, Nord Nightingale, STX Ace 8.
General Cargo Ships : Ahmad Brenc, Atlantic Joy, Georgios I, Haj Fayez, Inzhener Plavinskiy, Krokus, Lady Dina M, Mikhail Stenko, Pioner Yakutii, Thor Pacific, Yasar Kaptan III.
Container Ships : Aleko Konstantinov, APL Austria, CCNI Caribe, CMA CGM America, Dublin Express, E.R. Amsterdam, Jork, Maersk Vyborg, MOL Rainbow, MSC Magali, MSC Nikita, MSC Venice, Zim India.
Tugs : Bentley, Holland (URS), Schouwenbank, SD Gironde.
Ro-Ros : Atlantic Spirit, Ella J, Eternal Ace, Galicia, Garnet Leader, Opal Leader, Tor Selandia.
Reefers : Mogami Reefer.
Plus many, many, more....
Copyright Details
All images included on the CD are copyright www.ShipFoto.co.uk. The purchaser of this CD has been granted permission to print or copy the images for their own personal use. Images may not be distributed to others, altered in any way or used for any commercial purposes without prior written permission from www.ShipFoto.co.uk.
Technical details
All Photographs are taken with 8 megapixel or 10 megapixel Canon digital SLR cameras equipped with Canon "L" series professional lenses giving superb colour rendition and sharpness. These cameras produce images with dimensions averaging 3600x2500, allowing large enlargements to be made. Each JPEG file is approximately between 3.5mb to 6mb in size.
If printing the images it is recommended that print sizes with a 3:2 aspect ratio are chosen to avoid cropping of the images. for example print sizes 6"x4", 7.5"x5", 9"x6", 12"x8" are recommended.
Note : This is a data CD and will not play on a CD/DVD player.