ShipFoto - Best of 2010
A CD containing 150 high quality ship photographs taken in 2010 in locations including the UK, Holland, Belgium, Gibraltar and Istanbul.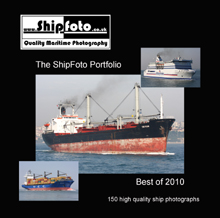 The photographs are stored on the CD in JPEG format allowing the user to browse and store them easily on a computer, print them off on a home printer, or get them printed at any high street photo lab.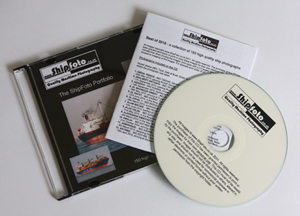 Included with the CD is a small booklet giving basic details about each vessel (Name, IMO, Type of Vessel, Date of Build, Gross Tonnage and Flag) as well as the date and location of each photograph.
The following are a small selection of the featured vessels :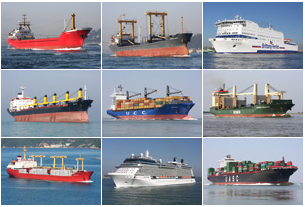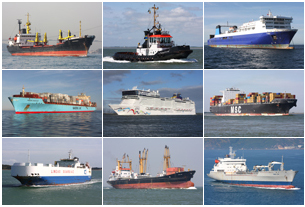 Cruise Ships : AIDAdiva, Artemis, Celebrity Eclipse, Crown Princess, Marco Polo, MSC Magnifica, Norwegian Epic, Princess Daphne, Ventura.
Ferries : Armorique, Baris Manco, Cap Finistere, Larkspur, Pride of Bilbao, Stena Hollandica.
Bulk Carriers : Adalbert Antonov, Blue Mariner, Gannet Bulker, Mirach, Monica P, Pasquale Della Gatta, Slavianka, Svyatoy Konstantin.
Tankers : Alam Bistari, Alan Veliki, Duzgit Integrity, Eagle Miri, Fen, Havva Ana, Moon Lady, Navig8 Stealth, Old Wine, Reliance II, Selay Challenger.
General Cargo Ships : Abdul Prince, Aleksandr Sibiryakov, Beril I, Djorf, H Emine Sagbas, Kupiskis, Mashta Azzar, Master Walid, Mega Star, Rickmers Singapore, Stepanida.
Container Ships : Al Safat, CMA CGM Volga, Elly Maersk, Frisia Wismar, Hamburg Bridge, Hanjin Vienna, Jeppesen Maersk, Maersk Kentucky, MOL Cosmos, MSC Chicago, MSC Natalia, Osaka Express.
Tugs : Fairplay III, Ikar, Lamnalco Fregat, Megas Alexandros, Millgarth, Multratug 9, Pegasus.
Ro-Ros : Asian Trust, East Express, Grand Canaria Car, Grande Anversa, Hoegh Trader, Maersk Flanders, T Rex.
Reefers : Al Zohal-1, Amalia, Brasil Star, Pacific Reefer, Regal Star.
Plus many, many, more....
Copyright Details
All images included on the CD are copyright www.ShipFoto.co.uk. The purchaser of this CD has been granted permission to print or copy the images for their own personal use. Images may not be distributed to others, altered in any way or used for any commercial purposes without prior written permission from www.ShipFoto.co.uk.
Technical details
All Photographs are taken with a 10 megapixel Canon digital SLR cameras equipped with Canon "L" series professional lenses giving superb colour rendition and sharpness. These cameras produce images with dimensions averaging 3800x2500, allowing large enlargements to be made. Each JPEG file is approximately between 3.3mb to 7.3mb in size.
If printing the images it is recommended that print sizes with a 3:2 aspect ratio are chosen to avoid cropping of the images. for example print sizes 6"x4", 7.5"x5", 9"x6", 12"x8" are recommended.
Note : This is a data CD and will not play on a CD/DVD player.