ShipFoto - Best of 2011

A CD containing 150 high quality ship photographs taken in 2011 in locations including the UK, Holland, Belgium, Germany, Gibraltar and Turkey.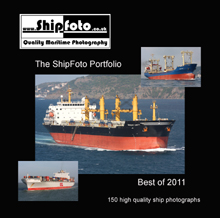 The photographs are stored on the CD in JPEG format allowing the user to browse and store them easily on a computer, print them off on a home printer, or get them printed at any high street photo lab.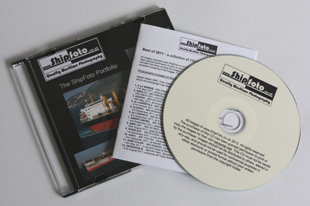 Included with the CD is a small booklet giving basic details about each vessel (Name, IMO, Type of Vessel, Date of Build, Gross Tonnage and Flag) as well as the date and location of each photograph.
The following are a small selection of the featured vessels :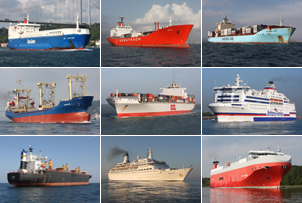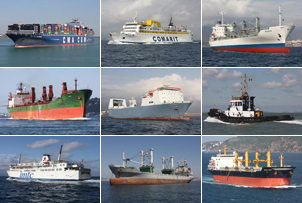 Cruise Ships : Adonia, Costa Favolosa, Discovery, Gemini, Grand Princess, Independence of the Seas, MSC Opera, Rotterdam, Ryndam, Saga Pearl II, Vistamar.
Ferries : Atlas, Boughaz, Coraggio, Eurovoyager, Normandie, Oleander, SH-Kadikoy, St.Clare.
Bulk Carriers : Abeille, Amir Joy, Desert Unity, Hamburg, Kybele, Michael S, Nanos, St Vladimir, Universal Challenger, Yeoman Bridge.
Tankers : Baltic Gas, Bitten Theresa, BW Edelweiss, CPO England, Dorra, Eternal Diligence, GDF Suez Neptune, Heydar Aliyev, Jemila, Maersk Rhode Island, NST Natasja, Sarv, Scorpio, Seapacis, Vinalines Galaxy.
General Cargo Ships : Ali Osman E, Americaborg, Anka, Aspendos M, Azra, Cellus, Clipper Nassau, Copenship Africa, Ernst Hagedorn, Hunter, Karavi, Lamar, Monterey, Oluk, Reina I, Roba star, Siderfly, Skymar, Sparrow, Timbus, Wilson Nantes.
Container Ships : A La Marine, Astor, BF Leticia, CMA CGM Andromeda, CMA CGM Debussy, DAL Kalahari, DS Accuracy, Gozde Bayraktar, Hanjin Chittagong, Maersk Bali, Maersk Idaho, Maersk Torino, MSC Antares, MSC Nuria, OOCL Washington, Safmarine Nakuru, Safmarine Nyanga.
Tugs : Bourbon Liberty 122, Cyklop, Marzamemi, Rotterdam, Salus, Salveritas, SD Bountiful, Smit Cheetah, Svitzer Victory, Terneuzen, VB Titan.
Ro-Ros :
Al Hurreya 2, Danube Highway, Grande Roma, Morning Champion, Neptune Iliad, Primula Seaways, Sea Partner, Toronto, Tyrusland, Vespertine.
Reefers : Atlantic Ocean, Bosse, Chikuma Reefer, Columbia, Green Bodo, Green Costa Rica, Humboldt Rex, Ivory Dawn, Pierre Doux, Tama Hope.
Plus many, many, more....
Copyright Details
All images included on the CD are copyright www.ShipFoto.co.uk. The purchaser of this CD has been granted permission to print or copy the images for their own personal use. Images may not be distributed to others, altered in any way or used for any commercial purposes without prior written permission from www.ShipFoto.co.uk.
Technical details
All Photographs are taken with a 10 megapixel Canon digital SLR cameras equipped with Canon "L" series professional lenses giving superb colour rendition and sharpness. These cameras produce images with dimensions averaging 3800x2500, allowing large enlargements to be made. Each JPEG file is approximately between 3.3mb to 7.3mb in size.
If printing the images it is recommended that print sizes with a 3:2 aspect ratio are chosen to avoid cropping of the images. for example print sizes 6"x4", 7.5"x5", 9"x6", 12"x8" are recommended.
Note : This is a data CD and will not play on a CD/DVD player.