ShipFoto - Cruise Ship Collection
A CD containing 150 high quality photographs of 84 of the world's cruise ships taken in various locations including Southampton, the River Thames, Harwich, Rotterdam, River Schelde, Barcelona, Istanbul, the Bosphorus and Malta.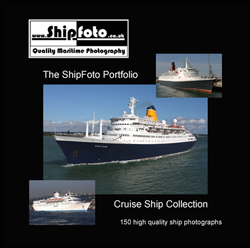 The photographs are stored on the CD in JPEG format allowing the user to browse and store them easily on a computer, print them off on a home printer, or get them printed at any high street photo lab.
Included with the CD is a small booklet giving basic details about each vessel (Name, IMO, Date of Build, Gross Tonnage, Flag and Operator) as well as the date and location of each photograph.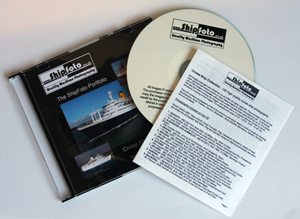 The following is a list of the featured vessels :
Celebrity Cruises : Celebrity Constellation, Celebrity Equinox, Galaxy, Millennium.
Costa Crociere : Costa Europa, Costa Mediterranea, Costa Serena.
Cunard : Caronia, Queen Elizabeth 2, Queen Mary 2, Queen Victoria.
Fred Olsen : Balmoral, Black Prince, Black Watch, Boudicca, Braemar.
Holland America Line : Eurodam, Rotterdam, Zuiderdam.

Louis Cruises : Cristal, Orient Queen, Perla, The Aegean Pearl, The Calypso.
MSC : Melody, Monterey, MSC Orchestra, MSC Poesia, Rhapsody.
Norwegian Cruise Line : Norwegian Jade, Norwegian Pearl.
P&O/Princess : Arcadia, Artemis, Aurora, Golden Princess, Grand Princess, Oceana, Oriana, Royal Princess, Sea Princess, Ventura.
Pullmantur : Blue Dream, Oceanic, Oceanic II, Sky Wonder.
Royal Caribbean : Freedom of the Seas, Independence of the Seas, Jewel of the Seas, Legend of the Seas, Navigator of the Seas, Voyager of the Seas.
Saga Cruises : Saga Pearl, Saga Rose, Saga Ruby.
Other : AIDAvita, Alexander Von Humboldt, Amadea, Arion, Astoria, Blue Monarch, Bolero, Bremen, Delphin, Deutschland, Grand Mistral, Marco Polo, Maxim Gorkiy, Minerva, Minerva II, Mona Lisa, Nautica, Ocean Majesty, Ocean Monarch, Ocean Village Two, Olympia Voyager, Paloma, Princess Danae, Seabourn Spirit, Seven Seas Voyager, Silver Cloud, Sundream, The Emerald, Thomson Spirit, Wind Star.
Copyright Details
All images included on the CD are copyright www.ShipFoto.co.uk. The purchaser of this CD has been granted permission to print or copy the images for their own personal use. Images may not be distributed to others, altered in any way or used for any commercial purposes without prior written permission from www.ShipFoto.co.uk.
Technical details
All Photographs are taken with Canon digital SLR cameras equipped with Canon "L" series professional lenses giving superb colour rendition and sharpness. The latest cameras produce images with dimensions averaging 3600x2500 pixels, allowing sizeable enlargements to be made.
If printing the images it is recommended that print sizes with a 3:2 aspect ratio are chosen to avoid cropping of the images. For example, print sizes 6"x4", 7.5"x5", 9"x6", 12"x8" are recommended.
Note : This is a data CD and will not play on a CD/DVD player.